Extended Day Service Learning Model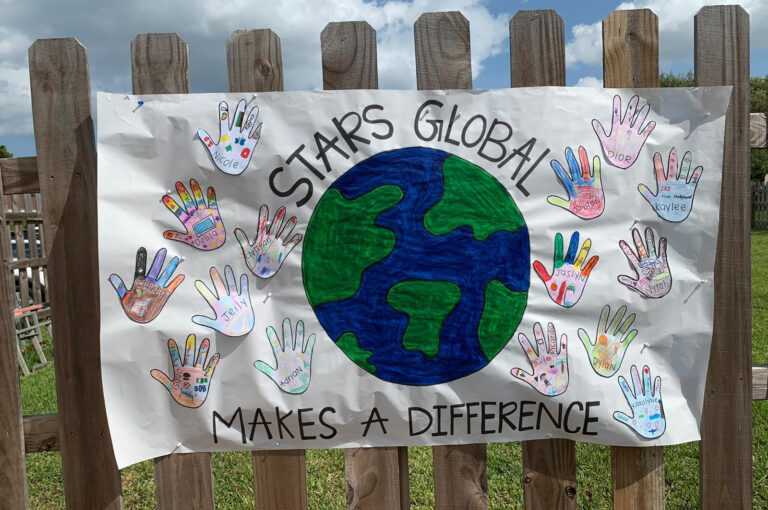 STARS Global Preparatory will implement a Service Learning Model for all students in grades PK-8 by adding an additional 60 minutes to the instructional day.
The goal of the program is to improve academic performance, behavior, school culture, peer interaction, and parental involvement.
East Campus (Kendall):
10870 SW 113th Pl, Miami, FL 33176
West Campus (West Kendall):
15600 SW 88th Street Miami, FL 33196
Monday – Friday
Early Care: 7:30 am -8:30 am
Core Day: 8:30 -2:30 pm
After Care: 2:30 pm- 6:00 pm
We recognize that conditions must be created to help us provide the time and resources needed to implement the best practice components of a comprehensive Service Learning Model: positive teacher-student relationships, a positive peer culture, cooperative learning, appropriate adult role modeling, effective and engaging class meetings, community building, moral discussion, conflict resolution, and democratic student government. Thus, it is our commitment to obtain effective leadership from school administration; require leadership and vision from the Governing Board; and engage the support of parents and community stakeholders for a successful design and implementation of the character development program.
The Service Learning Model at STARS Global Preparatory is a partnership with parents and the community to foster responsible, dedicated and caring students. It is an intentional and proactive effort to help students understand, care about, and act upon basic values that we all share. To this end, the school has created an extended instructional day to facilitate an hour of community building as part of the Service Learning Model per day for all students that incorporates both character development and service learning in an effort to produce the next generation of leaders and professionals.
The Service Learning Model at STARS Global Preparatory will begin in Kindergarten and continue through 8th grade. The 60-minute block will be an uninterrupted block scheduled five days per week, totaling 300 minutes of Social Studies per week.
The Service Learning Model will have the same emphasis as other core academic subjects. Through this course students will get to examine particular community moments that created collaboration and unity in history. This will include the study of moral issues that have led to prejudice, discrimination, resilience and courage. It reflects the vision of young student leaders becoming empowered to be social agents of change. Becoming socially aware of issues, participating in civic engagement, and the need to become agents of change will prepare students to meet 21st century challenges.
STARS Global Preparatory will identify students at-risk for poor learning outcomes; monitor student progress; provide evidence-based interventions and adjust the intensity and nature of those interventions depending on a student's responsiveness; and subsequently begin the process to identify students with learning disabilities or other disabilities. (1) A school-wide, multi-level instructional and behavioral system for preventing school failure; (2) screening; (3) progress monitoring; and (4) data-based decision making for instruction and movement within the multi-level system.
STARS Global Preparatory will make every reasonable effort to correct student misbehavior through a school-wide use of a Positive Behavioral Support, our core values and to support students in learning the skills necessary to enhance a positive school environment and avoid negative behavior. Teachers will address the vast majority of disciplinary issues at the classroom level. In all instances, school discipline will be reasonable, timely, fair, age appropriate, and will match the severity of the student's misbehavior. Systems will be implemented to ensure that parents and all stakeholders are informed of progress and lack thereof their child's behavioral continuum.
We believe that parents will take an active role in their children's education, and will be instrumental in encouraging positive behavior in their children. Parent meetings with the principal and other appropriate school staff will be conducted to address concerning student discipline issues. The School administration and parent(s) will express high expectations and set goals for behavioral modification. These goals will reflect the need for a positive relationship between school staff, parents, and students. Parents and students will be required to read, discuss, and accept the policies code of student policy.
Student culture and behavior will not only be addressed when there is a problem. Through a well-established culture and a proactive positive behavior support program, students will succeed consistently in our school. In order to maintain and promote a positive culture, all staff members will receive professional development focused on: the importance of student rapport, classroom strategies, positive behavior reinforcement, core values of school, Positive Behavioral Support, staff camaraderie, and understanding school culture – to ensure that Positive Behavioral Support are implemented with fidelity, optimizing success for students.
Are you a parent interested in a service learning curriculum for your child?
Are you curious about our small classroom sizes and various activities?
Visit our school and experience the STARS approach to education.